This is for sure one of the most frequently asked question we receive from our followers. And it is for sure one of the most valid questions of all, as a consistent look of your Instagram gallery can be crucial for gaining more followers and getting likes and comments on your posts. With this blog post we're trying to share our personal opinion on how to create your signature look. As the beauty lies in the eye of the beholder, there are many different ways of giving your account a unique look, so please take this blog post as a recommendation or inspiration but not as a guarantee for success. I'm afraid this blog post will not answer your questions about editing itself, but I'm working on a tutorial so you can get your own @topolindra look in the future.
BASICS FIRST
There are different ways of editing your pictures. You can either edit them on your mobile phone or on your computer.
Editing on your smartphone: The easiest way (that's how we've started as well) is to use a filter you like and use this specific filter for all of your photos. After applying this filter you can use apps like Snapseed or the picture editing section of your phone to adjust brightness, saturation, sharpness etc.
This is how you can edit your pictures on your iPhone

'Bearbeiten' or 'edit' at the top right – second symbol from the right – Brightness, luminance etc.
Editing on your computer: If you want to take your editing skills up to the next level, we would recommend you to use Adobe Lightroom Classic CC (that's the software we are using at the moment). This program is much more powerful than any app on your phone and you can achieve amazing results on all of your pictures. The license for this program is 12 USD per month. Again there are two different ways of editing: you can either buy some presets of accounts you already like (most of the big accounts do sell their presets) or you can start to create your own presets (what we did and still do).
Before and After editing with Lightroom Classic CC. Using our topolindra presets.
BE INSPIRED BY OTHERS 
In the beginning you might not be sure about how to create your own look or it might be even hard to describe how you want your pictures to look like. I recommend to have a close look at all the accounts you really like.
Do they have something in common?
What colors do they predominantly use (pink, orange and turquoise are really popular colors in Instagram at the moment)?
What's the overall look of these specific galleries (dark vs. light pictures, saturated vs. desaturated colors, sharp or soft lines, etc.)?
It helps to make some screenshots of the galleries and compare them next to each other on your smartphone. Try to analyze the different looks and use those results for your own pictures.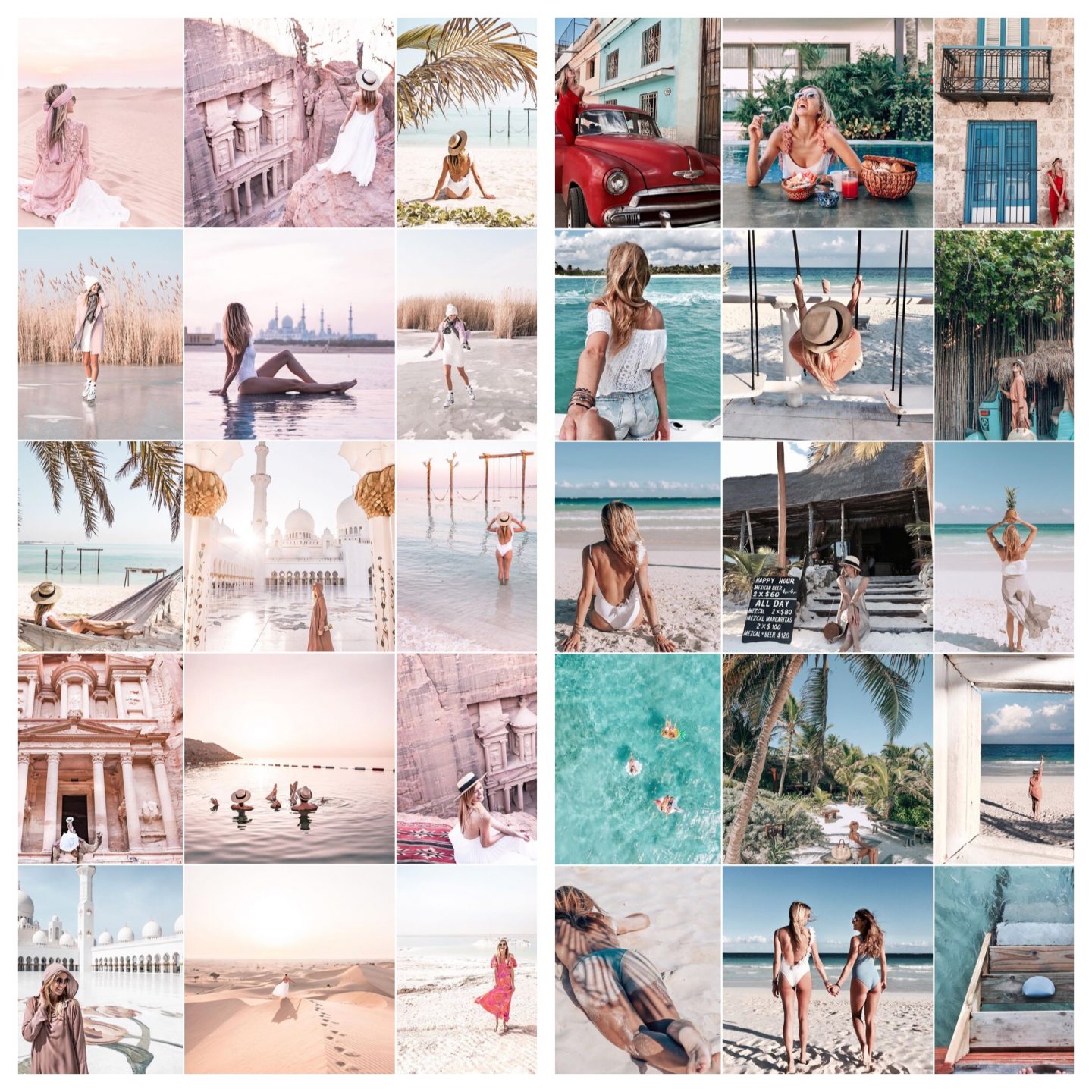 Pink vs. blue tones in our @topolindra feed
WHAT DETERMINES THE LOOK OF YOUR PICTURES?
Of course there are many different factors which determine the look of your pictures. So even if I will take a photo with our Canon camera and you do for example with a Nikon camera, the picture will not look the same.
Do you use a mobile phone or a professional camera do take your pictures?
What kind of camera do you use?
What kind of lens do you use?
And: light is everything for your pictures! So the time of the day and of course the weather (sun, cloudy etc.) are major factors which influence the outcome of your pics. It's crystal clear that you can't turn a rainy day into a all-over sunshine picture, but I think it's important to highlight that this is even impossible when you are using a professional photo editing software as Lightroom. But of course you can pimp your photos a bit 😉
WHAT'S THE SECRET OF OUR @topolindra SIGNATURE LOOK?
If you have a closer look at our pictures you can spot the following similarities throughout our gallery 🙂
We do like our colors a bit more desaturated (especially our blues are always desaturated a lot)
We prefer brighter pictures, so we always try to make them as bright as possible
We love pastels, so I mainly wear outfits in light colors as blush, mint, white etc.
We think that for some pictures you really need a color contrast to pop out, so I choose a bright color as a contrast (eg. red dress at the Fisher Bastion).
Blue, Orange and Yellow are always desaturated. Light colored outfits give your pictures are brighter look.
Sometimes you need a bit of a color contrast.
HOW TO PLAN YOUR CONTENT?
We highly recommend you to use an app to plan your future posts. We use an app called PLANN to see how our upcoming posts will match with another. Please note that we don't use the app to actually post our pictures, we only use it for a preview. There are many other apps which you could use as well (for example Planoly).
This is how PLANN looks like. The pictures with the little grey corner (top right) are not posted yet and you can move them around to get the perfect match and look of your gallery.
WHAT MAKES A GOOD PICTURE?
Last but not least, which factors determine if your picture will fly or bomb? To be honest: I have no clue! But we always try to pay attention to the following aspects:
Light is everything. Sorry, I'm repeating myself, but keep in mind that you want your location and you look as best as you can, so think about when it is the best time to shoot (sunrise vs. sunset, bright sunshine vs. shadows).
The early bird catches the worm. If you want a picture without any people in it, you have to get up early and be the first one at the location of your choice. Of course you can use some Photoshop magic as well, but we prefer to get up early. If you still need to edit somebody or something out of your picture, we can highly recommend the app called Touch Retouch – this app will change your life!
Dress for success. We think that the outfit is one of the most important success factors of your pictures. That's why I always try to find a matching outfit for the specific location or destination. But try to be authentic and find your own style. I personally love flowy dresses, so whenever I get the chance to wear a long dress, I'm up for it 🙂
Give your followers what they want. Have a closer look at your past posts and find out what your followers want to see. Landscape vs. people, food vs. outfits, single or couple shots?
Early bird reward: the Treasury in Petra without any people. We woke up at 5am in the morning to be there at 6am when the site opens.
So you see there are many different ways of creating your unique look and this blog post is only a short guideline of how we defined our topolindra signature look. It is a long progress and you will see that your own style will develop and change over time. It's a journey full of trial and error but the most important message comes at last: you can't do anything wrong, as it is your personal way of creating something beautiful. Please feel free to share some additional recommendations for us and our readers and leave a comment below!