We've been dreaming about visiting Amsterdam during spring and the tulip season for such a long time and this year this travel dream finally became true! It's been our second time to Amsterdam and we're obsessed with the Dutch capital, its gorgeous architecture, cute little restaurants and cafes and kind people. Definitely one of our favorite European cities! Visiting Amsterdam and the tulip fields in Goeree Overflakkee is the perfect combination to see some of the Dutch travel highlights!
Useful topolindra travel facts:
As many people are visiting Amsterdam during April the city can be really crowded and hotel prices may be higher than during the rest of the year. So if you are planning to see the tulip fields, book your hotel in advance to avoid higher prices. If you're flexible regarding your travel dates we would recommend to avoid April and choose another month so avoid the tulip fanatics.
The best way to explore Amsterdam is by bicycle. Most of the hotels offer bikes to cruise around in the city. In any other case you can rent some bicycles from local operators – they are easy to find (e.g. at the Central train station).
Our favorite area of Amsterdam is around the Nine Streets and all the beautiful Grachten and canals. Therefore we would recommend you to find a place to stay located in this neighborhood of the city. This time we've been staying in a gorgeous boutique hotel located at Herengracht. During our first stay in 2017 we've been staying at the Hoxton Hotel which is locted at Herengracht as well. We can highly recommend this area to stay as we loved waking up overlooking the Amsterdam Canals.
In front of our charming boutique hotel
Visiting the tulips fields near Amsterdam
As places like Lisse and Keukenhof are very busy during the tulip season we decided to visit some more remote tulip fields in the area around Goeree Overflakkee. Goeree Overflakkee is a little Dutch island approximately 1,5 hours away from Amsterdam which you can easily reach with a rental car. We would highly recommend you to go there by car as you will need it as well to explore all the tulip fields in this area.
Most important thing first: you can't miss the tulip fields. They are mainly located at the East and South side of the island and you can easily spot them while driving around by car.
Please pay attention and don't pick any tulips from the fields. It's the local farmers' work and you should respect their fields and flowers during taking some pictures. You can buy some tulips in the local shops and use them as props for your pictures 🙂
Visiting the tulip fields during sunset is a truly magical experience and you will be mesmerized by all the beautiful colors.
Besides exploring all the tulip fields you can head to the coastline of the island and take a walk on the beautiful beach. Be prepared that it can be really windy, so bring a jacket or sweater to keep you warm.
Where to stay?
We stayed at a little AirBnB and you can find plenty of them located all over the island.
How to get around?
The easiest way to get around is by a rented car.
What to bring?
Be prepared that the tulip fields will be muddy, so leave your most beautiful sandals and high heels at home and bring some shoes to get dirty 🙂
Amsterdam, the capital of cheese, Grachten and bicycles
As mentioned before we really love Amsterdam! We fell in love with this city during our first stay in 2017 and visiting once again felt like coming home. So here are some of our must do recommendations which should be on your Amsterdam intinerary:
Do it like the locals and rent a bicycle
If you think about Amsterdam you might think about hundreds of bicycles immediately JAnd this is not an urban myth: almost everybody in Amsterdam is cruising around by bike, no matter what the weather is like. So do it like the locals and rent a bicycle as well to explore the city. It's for sure the easiest way to get around and it's so much fun to explore all the little streets like this.
Grachten and the Nine Streets
Definitely our favorite neighborhood in Amsterdam! You will find many many beautiful houses along the canals and you will fall in love with this part of Amsterdam for sure! In this area you can find a lot of cute little cafes and shops and you can easily spend a whole afternoon there exploring all the hidden treasures.
A cruise on the canals
One of the most beautiful things you can do during your stay in Amsterdam! We skipped the cruise this time as we've already experienced one during our stay in 2017. There are many tour operators and you can choose among a variety of different tours. Big ships with a lot of people, smaller ones which offer drinks and private ones which you can rent just for the two (or more) of you. We decided to do a private cruise with a beautiful wooden boat and we enjoyed every moment of it.
Visiting the Anne Frank House
A must see during your stay in Amsterdam! A one of a kind piece of history which will transport you back to some of the darkest hours of the European history. Book your tickets way in advance, the queues can be tremendously long.
The Flower Market
Don't expect too much if you are planning to visit the Flower Market. The market itself is only made of a few flower stands which sell fresh tulips, tulip bulbs and other small souvenirs. But: it's the perfect spot to buy some tulips for your pictures J50 tulips for 10 Euros – count me in 🙂
Museums, museum, museums
Amsterdam houses some of the most stunning museums in Europe and offers a variety of art not only for cold or rainy days: the Van Gogh Museum or the Rijks Museum are two of our favorites!
Red Light district of Amsterdam
Fun to see, you can easily drive through with your bicycles and can tick this part of Amsterdam off your bucket list as well.
Explore all the amazing restaurants and delicious food
There are many amazing restaurants in Amsterdam which offer delicious food, stylish interior design and a lot of vegetarian dishes. So if you are staying only over the weekend you will have a hard time choosing where to lunch and dine as the variety is huge! You can find the perfect overview on OpenTable.de where you can directly book your reservation for any restaurant of your choice.
OpenTable is easy to use and no matter at which destination you're at the moment, the platform will always offer you the best selection from its over 51.000 partnering restaurants worldwide.
During our trip we used OpenTable to get tables at some of the dining locations, which happened to prove themselves as some of our favorite Amsterdam food hot spots. Here are our top 4 and we can't wait to come back again and explore more:
Café Pluk
A cute little café located in the Nine Streets area of Amsterdam. Very popular for its yummy cakes and coffees.
Van Wonderen Frieten
If you know me well already you know that I'm obsessed with fries, so this place is a must stop if you love French fries as much as I do!
Pressroom Amsterdam
Located in the INK Hotel MGallery by Sofitel this restaurant offers a variety of delicious food, from meat to fish and vegetarian dishes. In addition the restaurant has a stylish looking cocktail bar where all of your cocktail dreams become true. We had an amazing evening and enjoyed the excellent food and service during our visit.
Bluespoon Restaurant
The Bluespoon Restaurant is part of the Andaz Hotel which is located in the Prinsengracht of Amsterdam. This restaurant is the perfect option if you are looking for an amazing place to have breakfast or brunch. The breakfast buffet is to die for and I'm sure that you won't leave this place hungry.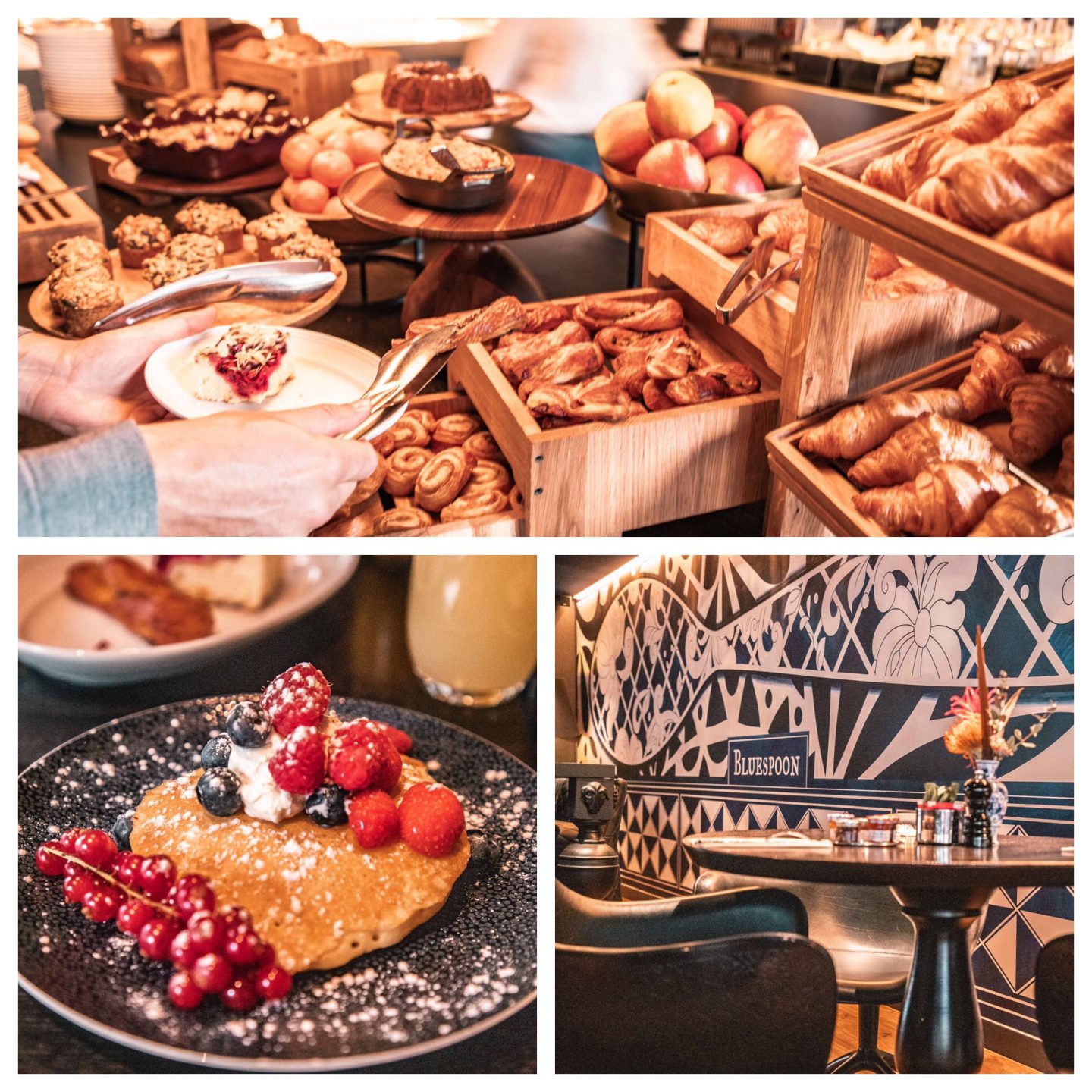 There are many things to do and see in Amsterdam and we can't wait to visit this city again to explore more and find some more hidden treasures of this city! If Amsterdam isn't on your travel bucket list already, you have to add this city immediately!
*Please note that this blog post is written in collaboration with OpenTable.de – all recommendations and thoughts are my own.