I've been dreaming about the perfect winter wonderland mountain getaway for such a long time! I had this picture of Konrad and me, snuggling in front of a cozy fireplace in a charming chalet made of wood and surrounded by mountains covered with snow, in my head for ages. And every time I draw this pictures I had the Christmas song 'Walking in a winter wonderland' in my head as well (side note: I'm a Christmas freak, so I have Christmas songs all year round in my head, haha) 🙂 .
Sleigh bells ring, are you listening
In the lane, snow is glistening
A beautiful sight
We're happy tonight
Walking in a winter wonderland.
So the moment we arrived at the Bergdorf Priesteregg a dream came true and the vision in my head came to life. We were greeted with the warmest welcome you can imagine and from the very first moment we felt home at this extraordinary place.
Our picture perfect chalet
Some facts about the location Saalfelden / Leogang where the hotel is located:
You might recognize this area already, as we've been there during fall already. As you can see, we loved this area so much, that we decided to come back again only a few weeks later 🙂 The area is nestled in the heart of the beautiful Salzburgerland and is famous for its stunning mountain views and picturesque skiing or hiking areas. It's an all year round travel destination and it is the perfect location for outdoor activities fans, SPA addicts or nature lovers. There are many possibilities to explore the area and you can get a fabulous overview on the website of the official tourism board of Saalfelden / Leogang. 
Useful topolindra travel facts:
What to bring: bring some cozy clothes to relax in your chalet and your hiking or skiing equipment for some outdoor adventures. You should pack your bathing clothes for your private hot tub (and your private  infinity pool if you're staying at the Willy Bogner chalet). The dinner dress-code is casual.
How to get there: the easiest way to get there is by car.
Who will love this hotel: it's the perfect hotel for lovebirds of every age and families with kids. The bigger chalets can accommodate more than 2 people and have separate bedrooms and bathrooms which makes them perfect for a trip with friends as well.
Walking in a winter wonderland
The Bergdorf Priesteregg is a family owned and family run getaway which houses 16 picture perfect chalets and lies 1.100m high in the mountains of Leogang. Words won't do justice to describe the beauty, perfectness and uniqueness of this place. So have a look yourself and walk with us through this perfect winter wonderland.
Click below to see a little video of our morning view at the Bergdorf Priesteregg:
A chalet dream come true!
Our private chalet had a small and fully equipped kitchenette, a charming dining area, the cutest bed to snuggle in front of the fire place, a huge bathroom area with a free standing bath tub (goals!), two washrooms, two separate bedrooms, an outdoor hot tub and private sauna.
Private hot tub
Sounds perfect? Yes it is!! We really fell in love with all the interior design of the chalet and the perfect mix between luxury and alpine coziness.
As mentioned before there are 16 different chalets which vary a bit in size as some are one story and some are two story chalets. In addition there are two designer Premium chalets (Louis Trenker and Willy Bogner) which will surprise you with an infinity pool overlooking the mountains or an exclusive interior design. But you can't make a wrong decision in choosing your favorite chalet, as all of them are simply stunning!
Hüttengaudi deluxe & culinary delights
If you've ever been in Austria you know how delicious Austrian food is 🙂 At Huwi's Alm (Huwi is the owner of the Bergdorf Priesteregg) you will be surrounded by cozy alpine interior and you will get all the yummy Austrian dishes you are longing for. All your breakfast dreams will come true in your private chalet every morning. While you are sleeping the busy bees of the Bergdorf Priesteregg are preparing and serving your breakfast in your private chalet, so you can enjoy all your breakfast delights in your PJs 🙂 If you want to stay in your chalet for dinner as well, you can choose between some in-chalet dining options as well.
Delicious Kässpätzle/Kasnocken at Huwi's Alm
Your breakfast is already waiting for you in your private chalet
How to spend your time
No matter if you are staying during warm or cold weather at the Bergdorf Priesteregg you will always have an amazing time at your private chalet. So you can easily spend some days there without doing anything 'special' and just enjoy your time there, read a good book, relax in front of the fire place, enjoy your private hot tub and sauna and some in room SPA treatments.
The bath tub is quickly changed into a relaxing massage bed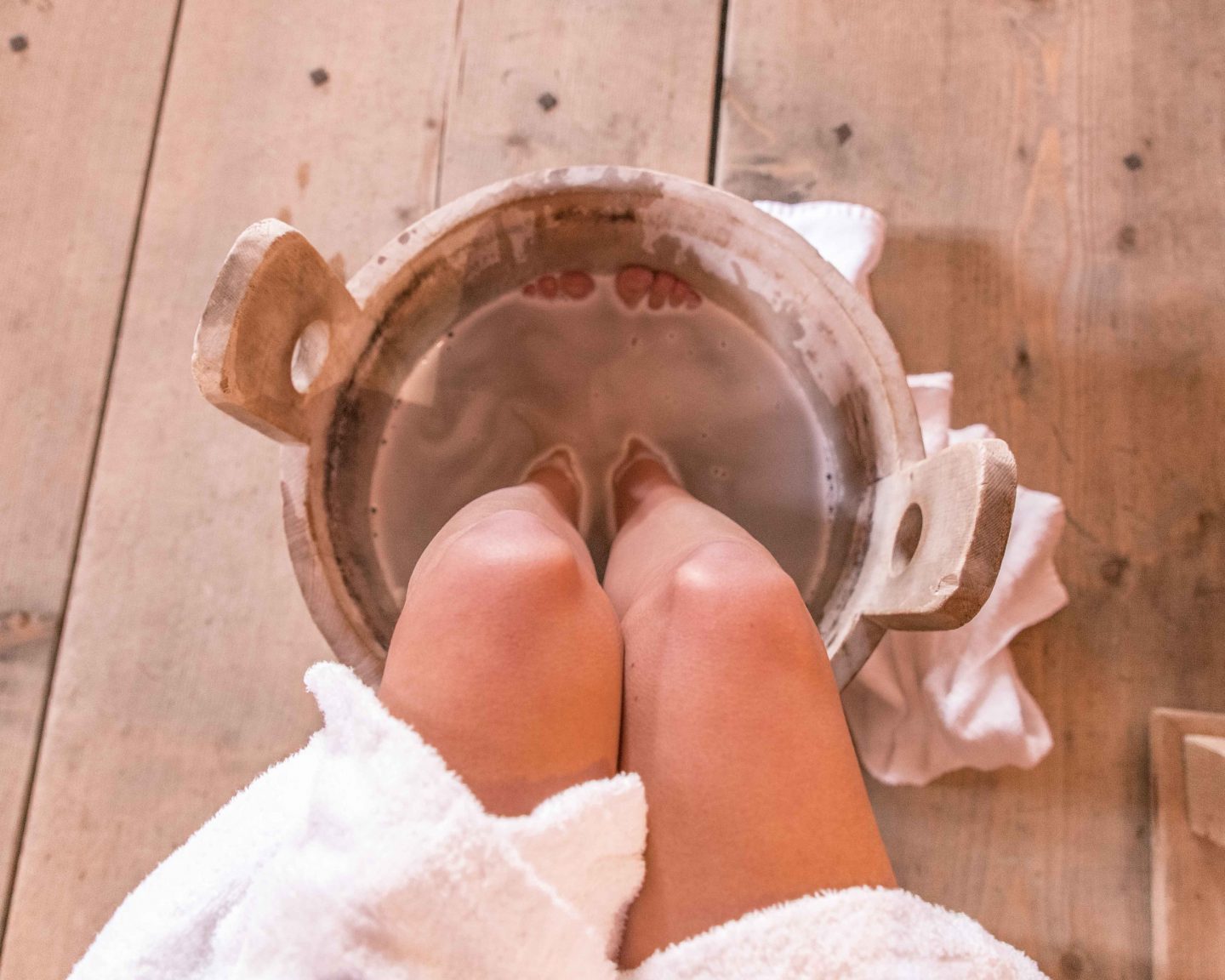 Enjoying the SPA treatment in our private chalet
And if you are looking for some outdoor adventures there are plenty of possibilities for you in the Saalfelden and Leogang area. Various hiking trails and skiing areas are just in front of your door.
Skiing area Saalfelden/Leogang
'Dashing through the snow in a two horse open sleigh' is the perfect outdoor activity when you are staying at the Bergdorf Priesteregg. One of our highlights was a romantic horse sleigh ride where we could enjoy the beautiful landscape and winter wonderland. I've been dreaming about this experience for such a long time and this time the weather conditions were perfect to dash though the snow.
Click below if you want to see a little video of our sleigh ride:
Oh what fun it is to ride in a one horse open sleigh
Later on, we'll conspire
As we dream by the fire
To face unafraid
The plans that we've made
Walking in a winter wonderland.
We truly love this place and if you are looking for a mountain getaway this is the place to stay! We can recommend this place from the bottom of our heart as we really felt at home there. Our stay at the Bergdorf Priesteregg was one of our highlights in 2018 and we can't wait to be back this year in December!
If you want to see some more footage about our stay at the Bergdorf Priesteregg  you can have a look at our Instagram story highlight.
*Please note that we've been invited from the Bergdorf Priesteregg to stay at their hotel. 
All recommendations are based on our personal opinion and experiences.