Rome is for sure one of our favorite cities in Europe. Why? We love the Italian language, food, music and people and the Italian capital is so full of impressive monuments that you can feel the rich history on every corner. It's the perfect weekend getaway if you are based in Europe and it has to be on your bucket list if you are visiting Europe from abroad.
Not convinced yet? Continue reading and I'm sure you will change your opinion afterwards!
Useful topolindra travel facts:
There are two airports in Rome: Fiumicino and Ciampino. Both airports are about 40 minutes away from the city center. As we had a late night flight to Rome we decided to take a taxi to our hotel (which was about 40 Euros).
You can get around the city very easily either per foot, per taxi, public transport or you can rent a Vespa and get the unfiltered Italian traffic vibes. We explored most of the parts by foot and took a taxi to the places a little bit outside of the city center.
Rome is an all year travel destination but keep in mind that it can be really hot during the summer and that Italians celebrate 'Ferragosto' (Italian holidays around the 15thof August) and a lot of restaurants and shops might be closed because locals have holidays.
Be prepared to get up early to have the main sights (Trevi Fountain, Spanish Steps etc.) just for yourself.
During high season (April-September) we would highly recommend you to book tickets for the Colloseo and the Sistine Chapel in advance. You can do that online and so you can easily skip the queue when visiting this impressive landmark.
So here is our topolindra list of all must-sees in Rome. The list might seem long, but you can manage them all within a weekend:
Trevi Fountain
Spanish Steps
Trastevere
The Vatican State, S. Peter's Basilica & Sistine Chapel
Colloseum
Piazza Navona
Pantheon
Piazza Venezia
Castel Sant Angelo
Forum Romanum (we didn't visit the Forum Romanum this time, as it was our second time in Rome)
Trevi Fountain
The Trevi Fountain is my favorite place in Rome. The fountain itself is beyond beautiful and I'm in love with the gorgeous color of the turquoise water and the white stone of the fountain. The fountain is located at a little square well hidden from all the surrounding houses.
And that's the magic of this place: one you turn around the corner you have the full sight of this impressive and beautiful landmark and you will fall in love immediately. As it is so beautiful it's the favorite of a lot of tourists so be prepared that this place is packed with people. Especially in the evening there are hundreds of people gathered around that small square.
So if you want to take some pictures with no people in it, you have to get up really early and be there around 6 am. Sorry guys, that's the price for a beautiful picture, but it will be so worth the effort!
Fun fact: did you know that an estimated 3,000 euros are thrown into the fountain each day. But watch out, it's not allowed to take the coins from the fountain.
The Spanish Steps
The Spanish Steps are only an 8 minutes walk away from the Trevi Fountain and they are located at the Piazza di Spagna. This must-see as very popular for people (tourists and locals) to hang out during the day, so again if you want to have the steps just for yourself, you have to be an early bird again.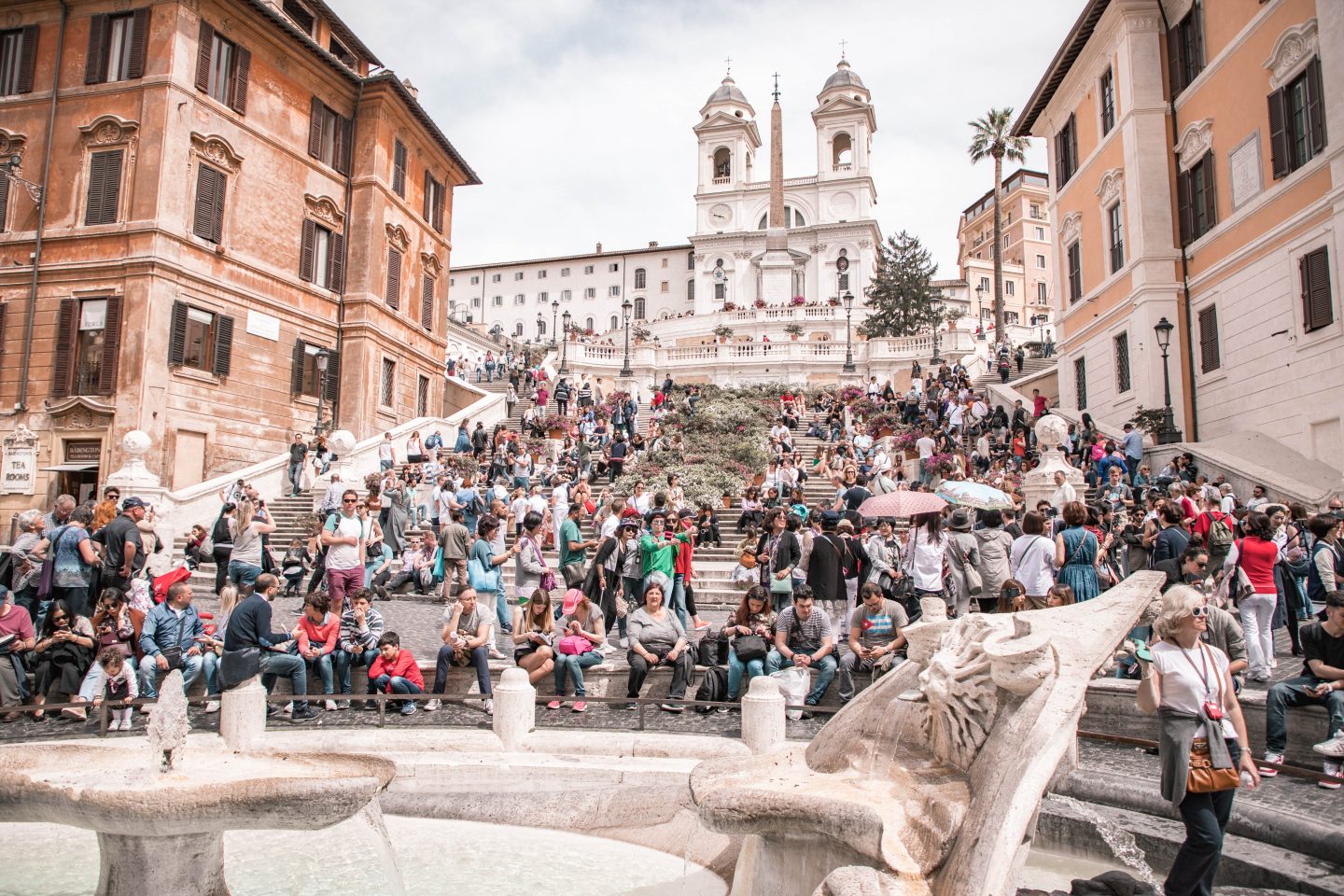 The place is really crowded during the day
3. Trastevere
You will loooove Trastevere! Trastevere is a cute neighborhood full of cafes, restaurants and charming houses.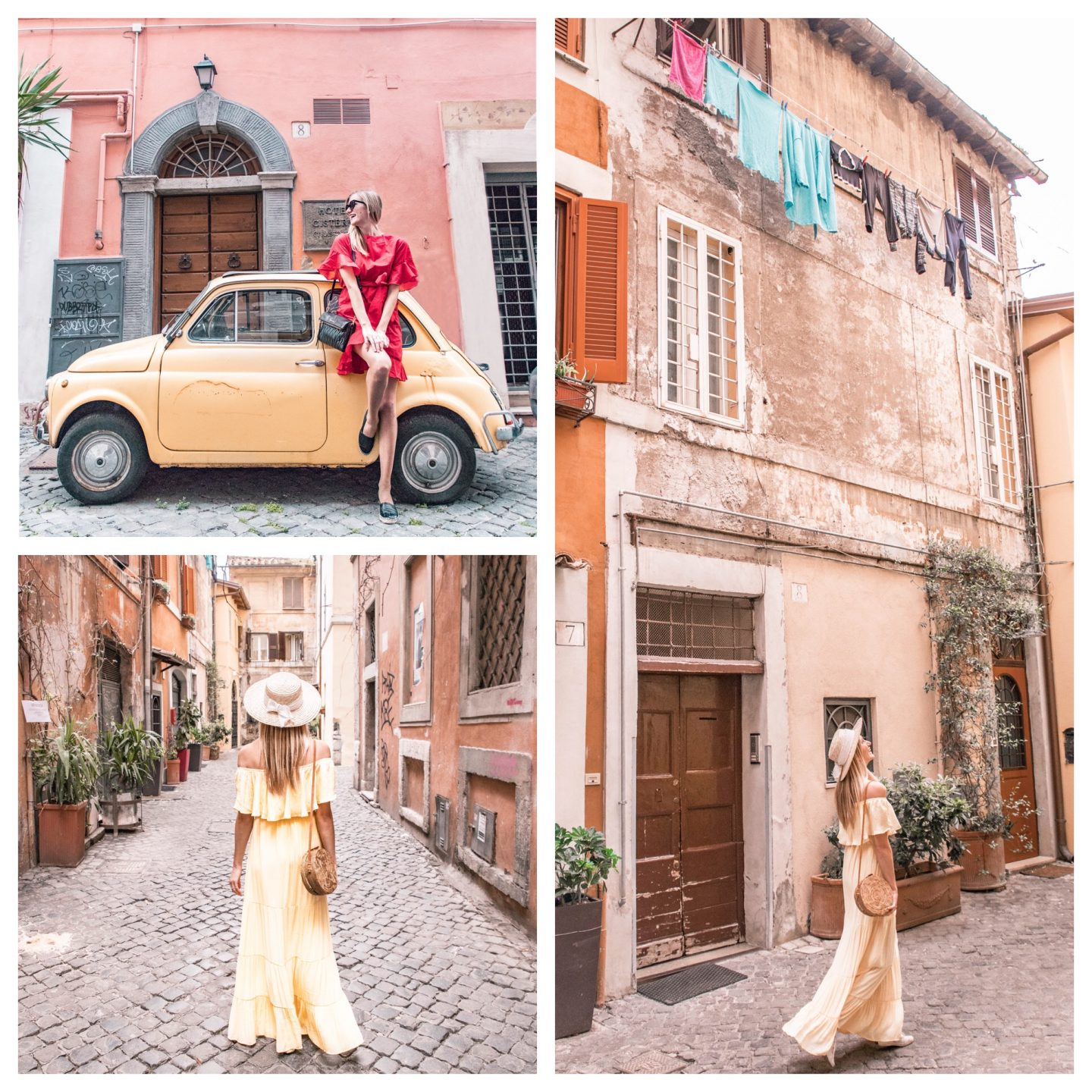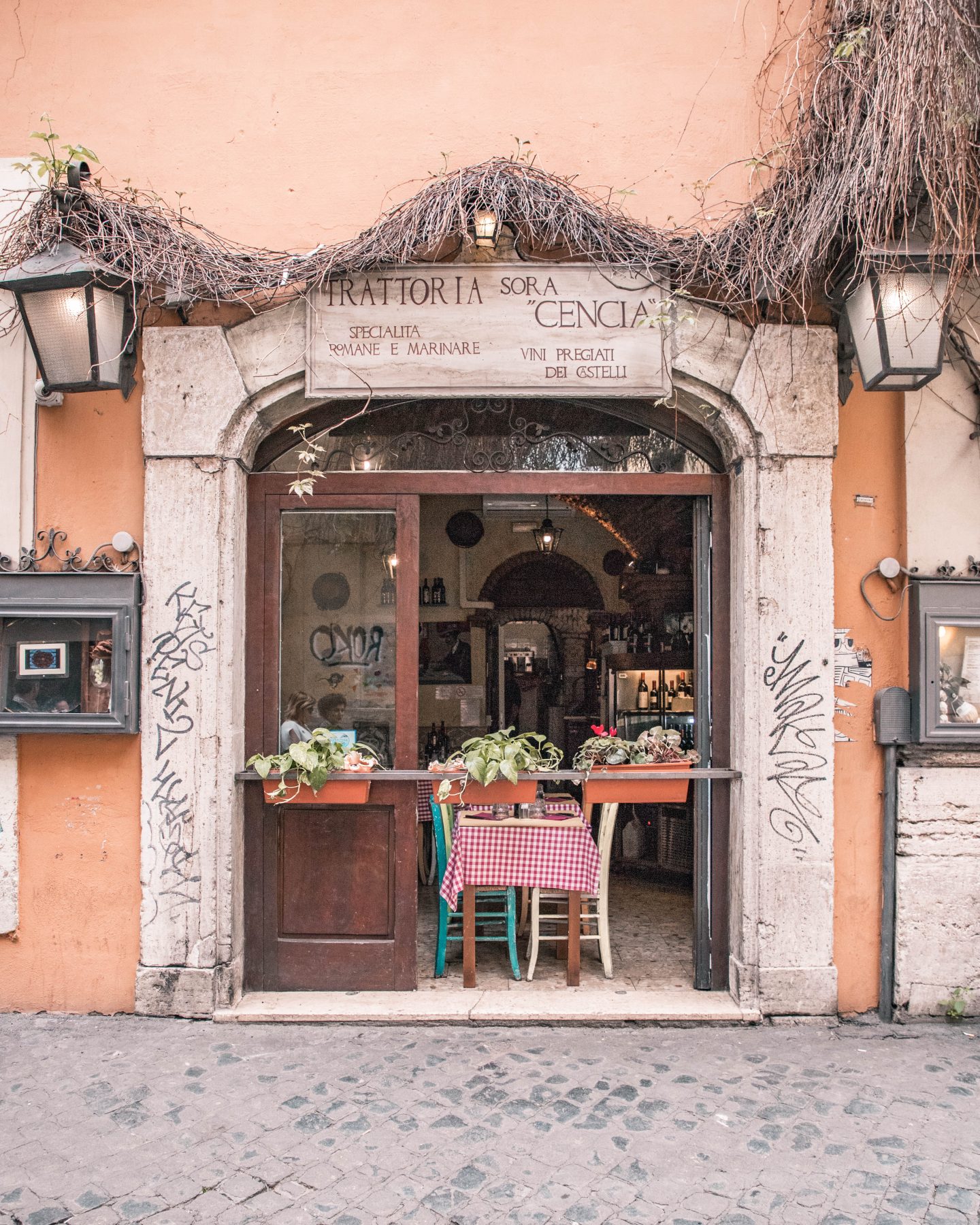 This lively area is very popular among tourists and locals and should definitely be on your sightseeing or evening program itinerary. You can spend plenty of hours getting lost in the narrow streets and finish of your day at one of the numerous restaurants.
The Vatican City State, St. Peter's Basilica & Sistine Chapel
Want to visit a second state while you are staying in Rome? The Vatican City State is independent state located within the city of Rome which is ruled by the pope. Did you know that it is the smallest state in the world by both area and population?
Within the Vatican there are two must-sees even if you are not a religious person. The St. Peter's Basilica is located at the St. Peter's Square and we would highly recommend you to enter this church. When you want to enter it is important that you have your shoulders and knees covered, so bring a scarf of jacket to be prepared.
It's an impressive building from the inside and outside and the best part – you will have an amazing view overlooking the whole square once you make your way up to the dome. The way up to the dome is a funny experience itself, as you have to pass some narrow corridors which are shaped according to the dome.
Don't miss the Sistine Chapel while you are in Rome but make sure that you book your tickets in advance (I've never seen such a long queue in my whole life). We visited the Sistine Chapel during our stay a few years ago so we decided to skip it this time.
Colosseum
The Colosseum is one of this monuments where ancient history is still alive and you can feel like being transported back in time.
This viewpoint is just across the street of the Colosseum, you can't miss it.
The Colosseum is the largest amphitheatre ever built and was able to hold between 50,000 and 80,000 spectators. It was used for gladiatorial contests and different public spectacles. It's a masterpiece of ancient architecture and to get an insight into the complex construction we highly recommend you to take a guided underground tour. You will have access to the underground level of the building where you can see a part of the tunnel system which used to bring the animals and gladiators into the Colosseum. Elevators and pulleys raised and lowered scenery and props, as well as lifting caged animals to the surface for release.
In addition we would recommend you to visit the Belvedere level (the highest level) of the Colosseum where you will have the best view over the arena below (we had a combined ticket for both levels). If you want to visit the Colosseum we recommend you to buy your ticket online upfront so you don't have to queue and can skip the lines.
View from the Belvedere level
Viewpoint across the Colosseum
Piazza Navona
With its beautiful fountains and baroque palazzi, Piazza Navona is one of the most elegant and most popular squares in central Rome. You will find a lot of artists, hawkers and tourists there and it is the perfect spot to enjoy a gelato and watch the crowds.
Pantheon
The Pantheon is a former Roman temple, now a church and is just around the corner of the Piazza Navona. The building looks impressive from the outside but make sure you enter the Pantheon to see the central opening (oculus) to the sky.
Piazza Venezia
You can't miss Piazza Venezia when you are in Rome. You could call this square the central hub of the Italian capital as it is located in the heart of Rome.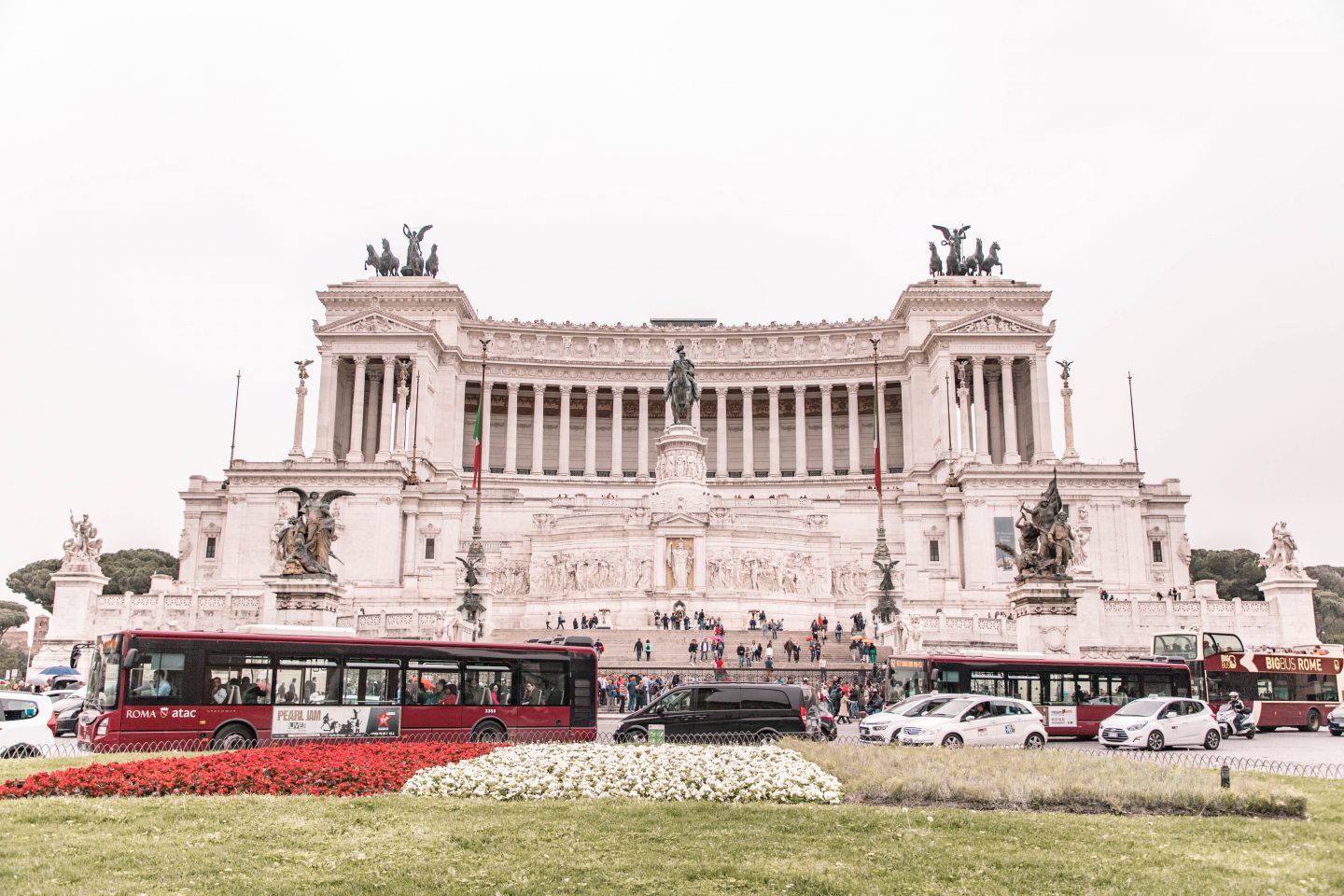 Castel Sant Angelo
The Castel Sant Angelo is a fortress located next to the river Tiber and is not far from the Vatican (you can see the St. Peter's Basilica in the distance already). It's a beautiful building but we didn't have a look inside the castell as we just made a little stop on our way to the Vatican there.
You can spot the St. Peter's Basilica in the distance
Forum Romanum
The Forum Romanum has to be on your bucket list when you are visiting Rome for the first time. We didn't visit it during our last stay, as again like with the Sistine Chapel, we've already visited this place during our previous trip to Rome. If you like ancient history and want to travel back in time – Forum Romanum is the place to go!
Where to stay?
When choosing our hotel in Rome it was crucial for us to be right in the city center. As the Trevi Fountain is my absolute favorite place in Rome and we only had 2 full days in the city, it was clear that our hotel should be as close to the Trevi Fountain as possible.
With CasaCau we found the perfect place to stay, right in the heart of the city center and only 300 meters next to the Trevi Fountain. We stayed in a gorgeous apartment with a balcony and enjoyed our time there a lot! We just fell in love with the open plan kitchen with large dining space and all the vintage furnishings from the 70's.
Due to the perfect location, the beautiful and huge apartment combined with an exceptional level of hospitality and service, we can't think of any better place to stay in Rome and would highly recommend this place for any upcoming stays!
We got the most delicious chocolate cake from CasaCau
Where to shop?
Don't get me wrong, I looove shopping, but when we only have 2-3 days in a city we hardly do any shopping so we can explore as many places as possible. But you can't say Rome without thinking about all the Italian fashion labels, right? So here is a short list if you want to take home some fashion souvenirs:
Via der Corso: the main shopping street in Rome. You will find all the international labels here.
Via Condotti: MiuMiu, Dolce & Gabbana, you name it. That's your address for all the luxury brands.
La Rinascente: this modern department store is located near the Trevi Fountain.
Via del Boschetto: this street lies in the Monti neighborhood and is known for its artisanal shops.
Where to eat?
Pasta, pizza, gelato – be prepared to gain a lot of weight during your stay in Rome JAs the Italian kitchen is known for its excellent food, you can't do anything wrong when picking a restaurant for lunch or dinner. We really loved Trastevere with all its charming restaurants, so we would recommend you to go there and choose your restaurant while strolling around.
*Please note that we've been invited from CasaCau to stay at their hotel. All recommendations are based on our personal opinion and experiences.