To begin with, Jordan is such an amazing country and has so many things to see, it's far more than visiting the ancient city of Petra. And, Petra has been on our bucket list for so many years (before we started our journey on Instagram and even before Instagram existed at all 🙂 ). If you are interested in the rose colored city of Petra only, have a look at our 'The perfect visit of Petra' blog post.
So how come we thought that now is the perfect timing to visit this beautiful country? We were looking for the perfect destination to escape the cold winter in Austria but weren't fond of flying more than 5 hours to get into the sun. So we decided to give the UAE another chance (we've been visiting Dubai 6 years ago and it didn't really impress us during our first stay) and book a flight to Abu Dhabi with a stop-over in Amman. The perfect chance to tick off Petra from our bucket list and soak up the sun in Abu Dhabi. For your perfect Abu Dhabi itinerary head over to our blogpost "The perfect week in Abu Dhabi"  (coming soon 🙂 ).
Useful topolindra travel facts:
Capital and main airport: Amman
Immigration: EU citizens don't need a visa upfront, you get your visa during the immigration process at the airport. You have to pay 40 JOD (Jordanian Dinar / around 45 Euros) and it took us around 15 minutes to pass the immigration.
Don't change any money at the airport, as the rates are far better in the local exchange offices in the city. You need a little bit of cash for entry fees or shopping in smaller shops (water, snacks) but all hotels or bigger sites as Petra except credit cards as well.
Even though Jordan is surrounded by countries which have been or are currently at war, the country is safe and all local people are more than kind and helpful. We felt safe all the time and didn't have a single negative experience during our stay.
Amman, capital of Jordan
The topolindra itinerary:
Day 1: Amman, Jerash & arrival at the Dead Sea
Day 2: Dead Sea, Wadi Rum & arrival in Petra
Day 3: Petra
Tour company: Royal Tours
Hotels: Rotana Amman, Hilton Dead Sea Resort & Spa, Mövenpick Resort Petra
Add on information: the Canyon Wadi Musa a definitely a must-see while you are in Jordan, but is only open during the summer month mid April until mid November (check the visitor centre for more information). As we've been in February, we didn't have the chance to do this tour, but will do it when we come back 🙂
Our itinerary may look tight at first sight, but we had enough time to explore all our bucket list destinations without any rush. For sure you could easily spend 10 days in Jordan, but we wanted to see as many things as possible in the short period of our stay. We decided upfront that we want a private driver/guide for the length of our stay in Jordan, so we booked Mr. Wasim (Royal Tours) who showed us all highlights of his beautiful country (we can highly recommend him, so if you want his contact details please get in touch with us).
DAY 1: AMMAN, JERASH & SWIMMING IN THE DEAD SEA
View over Amman city
We had a late-night flight to Amman and arrived at our hotel (Rotana Amman) pretty late in the evening. We can recommend the hotel as its service, food and location is really great. We started our tour in Amman early in the morning and went to the Amman Citadel, a historical site in the center of downtown Amman. The area sits in one of the hills in Amman and therefore you have an amazing view over all the little white sandstone houses. Furthermore you get a pretty good view of the Roman theatre, another must see while in the capital. The Citadel has an impressive series of historical buildings and has a long history to tell. We were really surprised that you can get really close to all the remaining monuments, so it will be a pure pleasure for all ancient history addicts out there!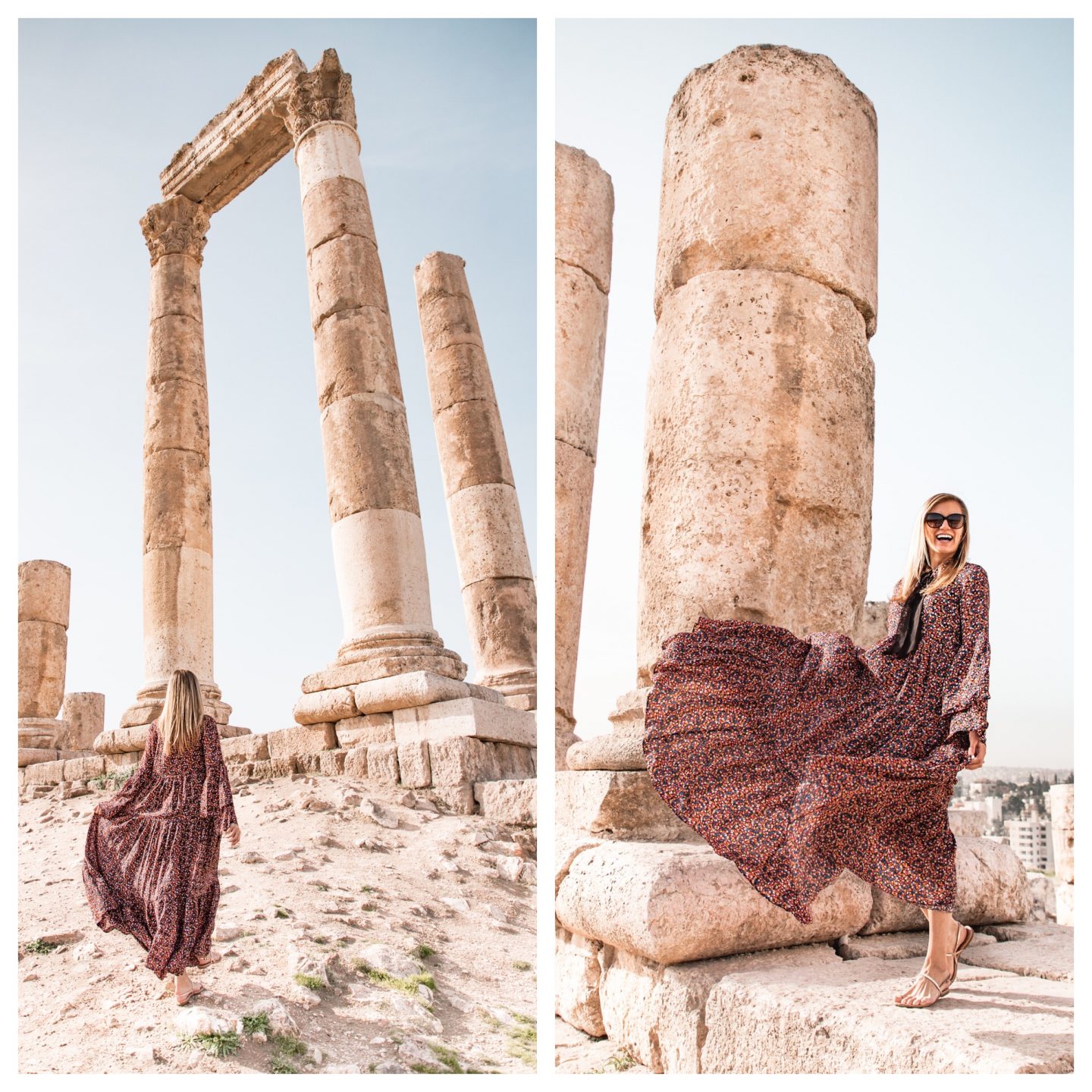 Exploring the ancient ruins of the Amman Citadel
We skipped the Roman Theatre though as our guide was highly recommending his hometown Jerash for more impressive ancient monuments. We always value recommendations from locals, so we went on a spontaneous trip to Jerash, which is a 40 minutes drive away from Amman. So the most important information upfront: Jerash completely blew our mind! The ancient ruins are located on a wide area and are Jordan's largest and most interesting Roman site.
Roman ruins in Jerash
With every step you can feel the rich history of the Roman culture and again as in Amman, you can get to all monuments as close as you want! Within the area you can find various temple ruins, a Roman theatre, impressive colonnaded avenues (amazing!!) and gates where you can easily spend 2-3 hours exploring these ancient treasures.
Entrance gate in Jerash
Temple of Zeus

The Roman Theatre

Colonnaded avenue
Our next and final stop for the first day in Jordan was the Dead Sea. The Dead Sea is actually a lake and besides 3 species of bacteria there is no other life (animals or plants) in the water. The Dead Sea is the lowest point on earth and its salt level is almost 10 times higher than in the ocean.
We stayed at the Hilton Dead Sea Hotel for one night and we can highly recommend this hotel. As we normally don't like big international hotel chains it was our first time ever to a Hilton hotel and we were surprised by its service and quality of food. The area around the Dead Sea itself is a military zone, so no locals are living within this region. All the main hotels are lined next to each other so you can't do wrong with choosing one of them.
Beach area at the Hilton Dead Sea Hotel
We arrived around 2pm in the afternoon and headed straight down to the beach and the sea. At the hotel you can find a a sandy beach and no dried-put salt formations (to see them you have to drive South, which we did on day 3, so continue reading 🙂 ). The water temperature was around 23 degrees and at first sight the water looks completely normal, only a bit muddy. The texture feels a bit sticky and emulsify (it looks like when oil is getting hot). Floating in the Dead Sea is one of the most amazing experiences we've ever had and feels magical. Watching the sun go down while floating in the water is for sure a bucket list experience!
The Dead Sea mud is supposed to be really nutritive for your skin, so Konrad even tried a Dead Sea mud massage and had soft baby skin afterwards 🙂
Dead Sea mud massage
Essential topolindra travel tips for swimming in the Dead Sea:
Don't shave on the same day when youre going into the Dead Sea.
Rinse your bathing clothes with clear water after swimming in the Dead Sea.
DAY 2: DEAD SEA, WADI RUM & ARRIVAL IN PETRA
We started early in the morning to explore the dried-out salt shores of the Dead Sea which you can find at the Southern banquet. Along the road of the Dead Sea you can find various viewpoints where you can already see some salty beaches and cliffs.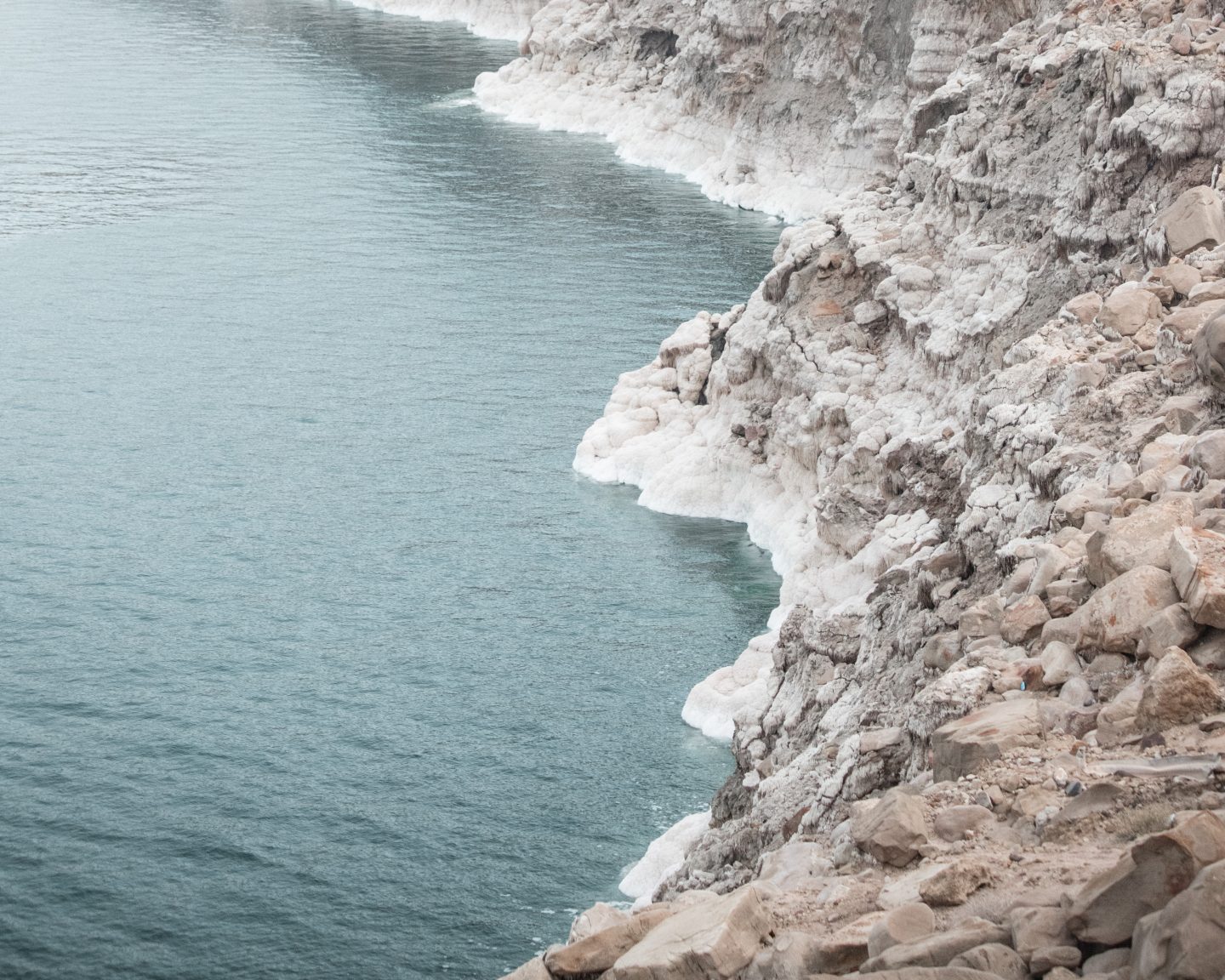 Salty cliffs
If you are just by yourself it is a bit tricky to find the best spot, because you have to climb down from the top of the streets to be near the water. If you have a local guide or driver just tell them upfront and they will bring you to the best viewpoints and spots where you can go near the water.
Can you spot the little salt island at the left?
The noise while walking on the salt sounds like cracking popcorn and the surface is not slippery at all. Be prepared that the surface of the dried-out salt is sharp and spiky so be careful and try not to cut yourself.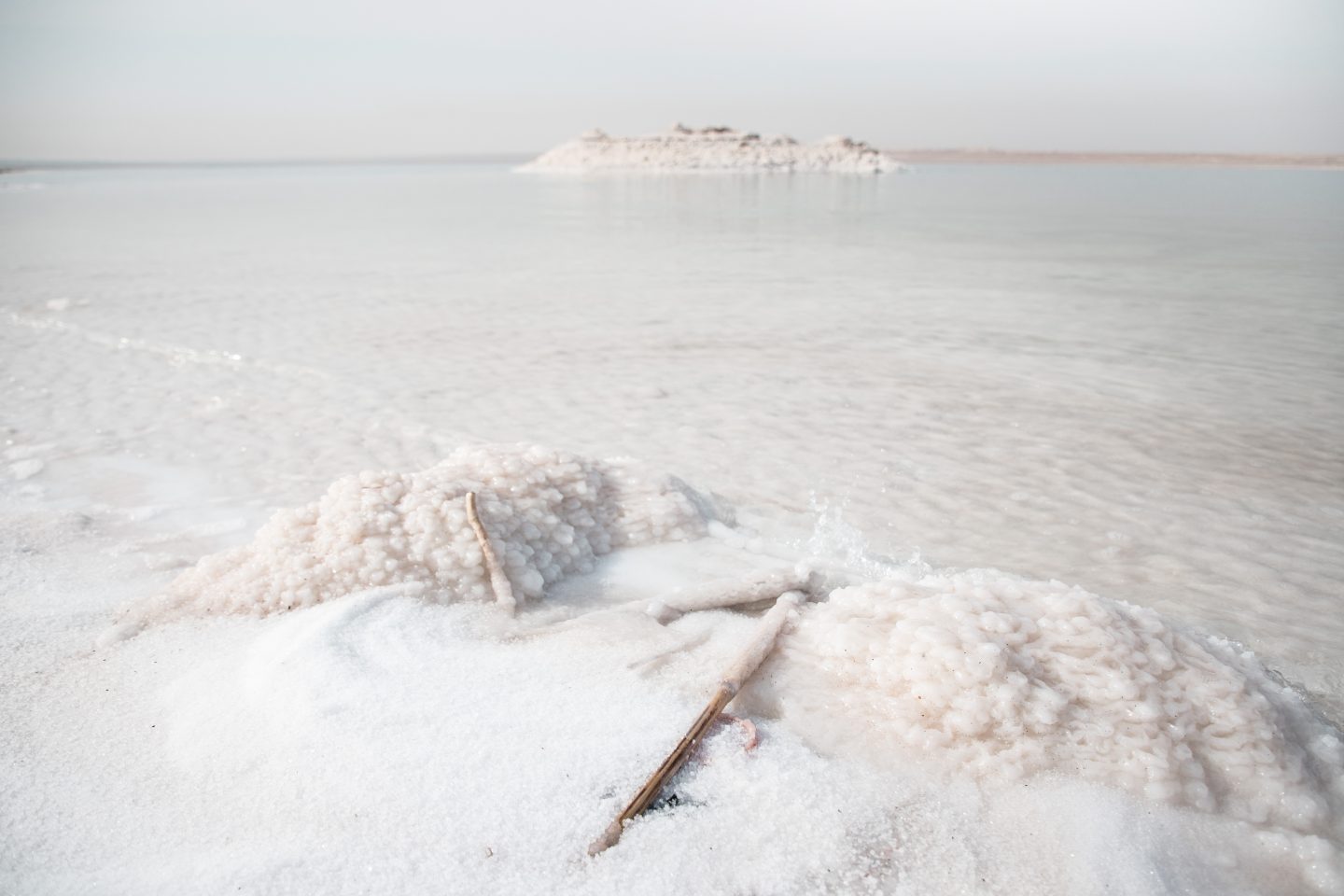 Dried-out salt
After the stop at the Southern part of the Dead Sea we continued driving South to the Wadi Rum desert. After a 2 hours drive we arrived at a local Bedouin camp where we hopped on 2 camels and started exploring the stunning landscape of Wadi Rum.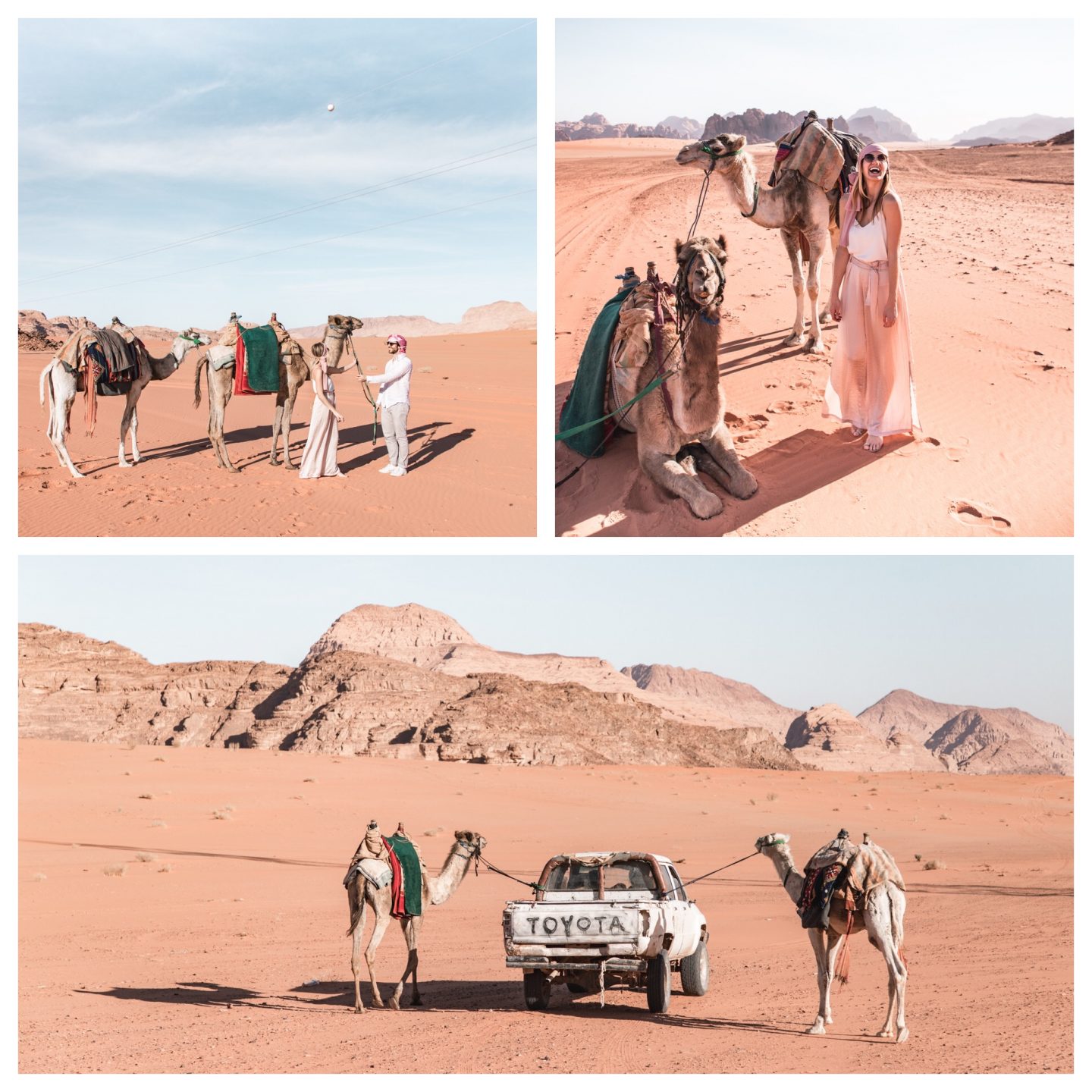 Must do: Camel ride in the desert
After a short camel ride we switched to a 4×4 Jeep and drove deeper into the desert. Wadi is the Arabic word for Valley and Wadi Rum is actually the biggest valley in Jordan.
Looking for some Martians at the back of our 4×4 Jeep
Most of the rocks are made of Sandstone or Granite which give them their characteristic rose and orange color.
Exploring Wadi Rum
Wadi Rum has not the typical desert landscape with endless sand dunes and be best described as a moon or Mars landscape. It has many rocky parts combined with soft sandy areas. That's why the location has been a movie set for many different Hollywood blockbuster, like the Martian or a new movie coming up in 2019 named Aladdin/The Wonder Lamp with Will Smith.
The Martian by topolindra (sorry Matt Damon, we had to copy this shot 🙂 )
We found the perfect viewpoint for an amazing sunset in the desert and after watching the sun go down we sat around a romantic bonfire and drank tea with our local guides. After dark a sky full of stars was the perfect ending for a perfect desert tour and we will never forget these magic moments in Wadi Rum.
A magical desert sunset
The perfect way to end a perfect day in the desert
Extra tipp: if you have a bit more time to explore Jordan and if you want to get the ultimate desert feeling, there are several camps within the Wadi Rum area where you can stay overnight (tents, Mars igloos).
After our desert trip we went on another 1,5 hour drive to Petra. We wanted to arrive in Petra already at the day before our actual visit and so we stayed 1 night at the Mövenpick Resort Petra which is directly located at the entrance of the Petra visitor center. If you stay at this hotel don't expect too much, the service and food was really good but you can see that the hotel itself and its rooms haven't been renovated over the last years. Nevertheless, we would recommend you this hotel, because its location is unbeatable and has the best requirements to be among the first visitors at the Petra site.
DAY 3: PETRA
As for a lot of you a visit at the famous site of Petra will be the highlight of an upcoming trip to Jordan, we created an additional blog post about the perfect visit with more detailed information.  So if you want some ad-on insights, recommendations and pictures have a look at our "The perfect visit of Petra" blog post.
We started our visit at the Petra site at 6am in the morning and were one of the first people at the visitor center. We didn't have a guide as we wanted to explore the site by ourselves. The way from the visitor center to the Treasury takes about 20 minutes and there is only one possible way, so you can't go wrong. It's an easy walk through the impressive canyon called Siq.
After following the way through the Siq you will reach this famous viewpoint and you will catch this first glimpse of the impressive monument.
First glimpse of the Treasury

The Treasury
Besides the Treasury there are several other impressive locations to explore: the Royal tombs, the Monastery and various viewpoints. We spent around 8 hours exploring the whole area and were fascinated that there are so many different things to see!
If you want to read more about our experience in Petra, have a look at our 'The perfect visit of Petra' blog post.
Our visit of Petra was the perfect ending for a perfect trip to Jordan. We really fell in love with the country, its people, its food and its hospitality. There are many more things to explore and we cannot wait to visit this country again – see you soon Jordan!
Note: this is not a sponsored blog post.